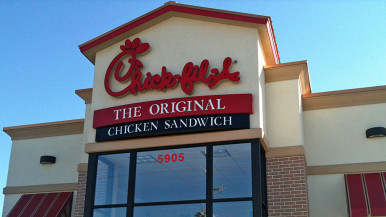 This little missive is my response to a person who defended the owner of Chick-Fil-A's homophobic racist remarks in the Huffington Post comment section!

Hey, stupid. Chick-Fil-A is not being attacked because of its religious beliefs, it is being attacked because of its openly anti-gay remarks and homophobic stances, which is skirting federal discrimination laws. Religion be damned... for the head of a major restaurant chain to openly gloat about his homophobia is paramount to suicide. What is this stupid jerk thinking about? People want to feel good about the food they eat and if the owner of this company makes the perception of his restaurant somehow racist and homophobic... well, a huge portion of Chik-Fil-A fans will be turned into enemies, like me and my son! We will never eat at Chick-Fil-A again, as long as this owner represents this restaurant.
You may continue to eat there… fine. But if you defend racism and homophobia, then you are a monster that is a part of the American social problem and people like me are working every day to expose people like you and make them understand how evil they are… just like the evil stances homophobic racists use when they hide behind the bible.
Get a clue!